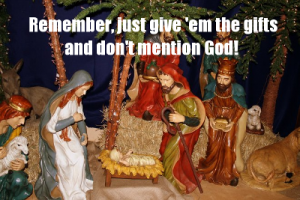 We often hear people complaining that Christmas is becoming more commercial, but is Commerce becoming less Christian as well?
I have a friend who works as a buyer for a multinational company, (who shall remain nameless for obvious reasons), and we had a thought provoking discussion over a couple of pints of Holts best bitter the other day.
His company had asked him to buy the annual company Christmas cards to send out their clients, but, for the first time ever, had requested that he avoid any cards that made reference to God, Jesus and the nativity.
It seems that they were worried about offending non-Christians.
Whether this was a knee-jerk reaction based on the (highly debatable and islamophobic) perception that British Moslems are likely to place fewer orders due to some kind of anti-christian stance, or a general respect for all religious and non-religious views, wasn't made clear to my friend.
What was made apparent though, was that they were concerned that portraying themselves as overtly Christian might affect their bottom line.
I was interested to know if this was widespread, so I checked some search trends on Google for the last 3 years, and the figures seemed to support a significant drop in searches for religious christmas cards.
Since 2012, searches have varied as follows:
Christmas cards – no change
Business Christmas Cards (and related phrases) – down 1.75%
Religious Christmas Cards (and related phrases) – down 21.62% !
Could this really be true?
Fortunately, I have a contact who works at a publishing company, specialising in business christmas cards (Festive Collection), I called and asked him the question.
He confirmed my suspicions – orders for the religious themed cards had been dropping year-on-year for some time now.
So, I throw this open to you for comment.
is this a 'fear of causing offence' based reaction?
are we, as companies or individuals, becoming less religious?
are we starting to see Christmas as something secular and detached from religion?
something else? (feel free to make suggestions)